I do enjoy tofu. extra firm slices with salt and pepper sprinkled on it, maybe a slice of cheese a piece of butter lettuce. mmm. scrambled tofu with veggies. yum. tofu burgers topped with grilled veggies on a hearty bun. I'd never had a tofu dog. or pup as the package read. I'd been looking forward to trying hot dog toppings I'd come across in an issue of, Everyday Food, & picked two to try, but I have a problem with hot dogs. I don't want to eat them & decided I'd throw these topping recipes on a healthier option. Tofu. I purchased real dogs from the deli for the husband, he'd never agree to even try a tofu dog. They were both delicious "toppings" Hawaiian rang in as the hubby's favorite. I really loved the Mexican Charred Corn Dog. The Tofu Pups were nasty. I would have rather had just the toppings between the bun. The pups had this strange orange color to them & the after taste was ...ewww. worst $3.49 I've ever spent.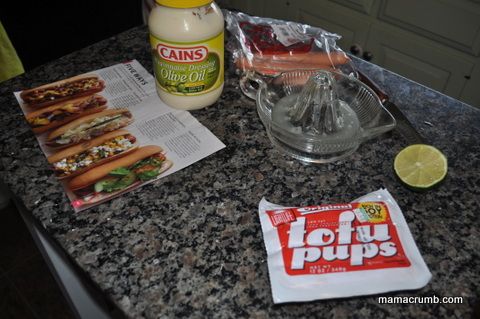 The hubby would have this one again:
Hawaiian Dog
.
My Favorite of the two:
Mexican Charred Corn Dog
.