It's a brand New Year! Throw some glitter and it's Shiny & New! & now my floor sparkles, too.
I ended 2013 with weighing out for a weight loss challenge a handful of my family & I agreed to stage during the Holidays. Yikes! I've had brighter ideas. Although, I'm pretty impressed that given my lax approach & the copious amounts of sugary and carby foods the Holidays seem to carry I somehow managed to lose 9.4 pounds. Woot! My cousin mentioned that this is actually, in a twisted way of looking at it, like losing 20lbs because I didn't gain the Holiday Ten. Woot Woot! I did finish last in the challenge, womp, womp, womp... by a couple tenths of a percentage. ha-ha If only I'd tried harder instead of barely trying. Here's a photo of me and my Trophy!
Weight Loss Challenge 2013. Losah! *smile*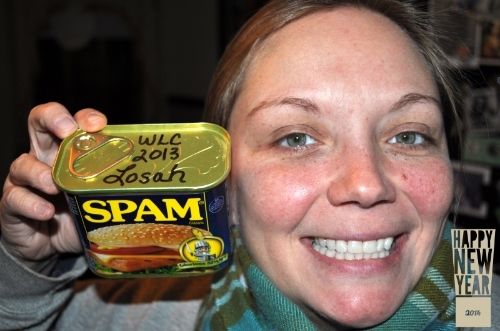 What do I have planned for the New Year you ask?
In the New Year I'm going to wait a mandatory 10 seconds after I pee to wipe. I'll sit there and do 10 kegels. I hate when I wipe and then more pee sneaks out and I have to wipe again.
I'll dust less. If that's possible.
I'm gonna try like heck not to stress over the petty stuff. Who cares if when I left for work the kitchen was orderly & when I come home both my sinks are full with dishes. At least I know the family ate well. & so what if I wash and fold the husbands clothes and he fails to put them away for weeks, at least he's wearing clean drawers. & why do I get so emotional over clutter? I'm gonna dig deep & embrace ..even just a wee bit..of clutter.
I gonna to soak my feet more.
I'm going to take shit I don't need and repurpose it into new shit I don't need.
I'm gonna stop there before I resolve to do something crazy like blog more frequently and plus I don't want to stress myself out with some petty list of stuff I'll feel pressured to fulfill.
Happy New Year!